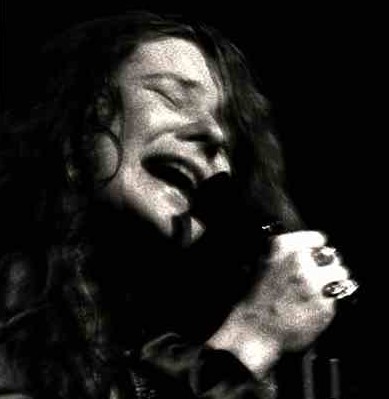 LISTEN TO MAYBE
LISTEN TO BO DIDDLEY
LISTEN TO CRY BABY

On October 4th, 1970 Janis Joplin died at 27 years old of an accidental heroin dose. There is no VOICE that has guided my spirit to a fevered climax like the voice of Janis Joplin. Her bluesy, savage, excessive wails are filled with sadness, salvation, redemption and even glimmers of happiness. In a world of over-produced spoiled pop it's challenging for people to appreciate a sound like Janis -- Janis didn't just sing a melody, she went to the gritty rust of every note and squeezed it with all the strength she had in her vocal chords.

When Janis burst onto the scene in 1967 at the Monterey Pop Festival people were amazed. No one had EVER seen a white woman get on stage and roar with that type of conviction. White women at the time rocked blonde bouffants and cardboard eye lashes! However, Janis would perform with no make-up, sweating and ripping her throat into shreds. Even black women at the time (with the exception of the blood, sweat and tears of Tina Turner) did not get on stage that rough. The black community was tired of look, sound and feel of the gritty blues. In 1969 legendary blues singer Big Bill Hill said: "Blues has something to do with that bastard part of life that most black people want to forget."
This is part of the reason why Diana Ross claimed the 1960s, she was the first glamorous black woman accepted by the mainstream. Artists like B.B. King, Etta James, Muddy Waters, Esther Phillips (all artists who were around before Aretha Franklin and Donnie Hathaway!) and many others were confused at this rejection of bluesy soul. Nonetheless, Motown accommodated white audiences and represented black people in a polished, clean, non-threatening manner (Marvin Gaye would go on to despise this side of Motown).

The introduction of Janis Joplin was a violent shockwave to most of America ... this was not just a white singer trying to sound black. She was no Elvis Presley, who robbed black music and became the self-proclaimed "King of Rock N' Roll." Janis gave constant credit to her influences ... in every interview she spoke of her favorite singer, Bessie Smith, (shame on ANY of you if you don't know who Bessie Smith is!) and explained she would've never sang if it wasn't for Bessie's music. She would speak of the brilliance of Billie Holiday (who was virtually forgotten by the 1960s), Leadbelly, Etta James, Big Mama Thornton and many more. Also, she revered Tina Turner, Aretha Franklin, Otis Redding and many others. This was a first (with the exception of Eric Clapton) for a white artist to truly credit their black influences. She once said: "Billie Holiday and Aretha Franklin can go no further from an A to a B and milk you in one note."
Janis grew up in an incredibly racist town called Port Arthur, Texas. She would come to school singing blues songs and was called a "nigger lover." One time she went to a bar and san
g a song called "Hang Man," which was about lynchings and was nearly lynched herself when they threw her out of the club. She was a bit "masculine" and not the most attractive woman. In her only year of college she was nominated "the ugliest man on campus." Janis would eventually discover San Francisco where there were freaks like her. Eventually she connected with legendary music moguls like Chet Helms and Clive Davis.

Janis caused controversy on her second and arguably her best album Mama, I Got Dem Ole Kozmic Blues Again. She had an interracial band -- which upset her white fan base. In addition, she made comments in Newsweek that her lips were too thin and she thought pale skin was unattractive -- this was unheard of in the 1960s. Musically the album was praised, but these comments in the late 1960s nearly destroyed her core fanbase. Whites constantly questioned the soul in her music (surprisingly most black artists felt Janis' soul and there wasn't much to question). Janis once said: "I keep trying to tell people that whites have soul too, but white people don't allow themselves to feel things; they've just got to give into it."

Janis did not have a huge black following, as I mentioned black folks weren't embracing the blues, but Janis got respect from artists like Otis Redding, Tina Turner, Etta James, Little Richard and B.B. King once said: "Janis Joplin sings the blues as good as any black woman I know."

In August 1970 Janis received a call from Bessie Smith's estate who informed her
that Bessie died with no tombstone on her grave (Bessie died penniless when she was once the richest black woman in America). They asked if she would be willing to donate money for the tombstone. I find it interesting that Janis did this, but the Dianas and Arethas of the world didn't, but I digress! A tombstone was placed on Bessie's grave -- the ceremony/funeral for Bessie was held October 4th, 1970. Janis did not attend the funeral because she didn't want the press/media to overpower, which would take away from Bessie's moment. Ironically, October 4th 1970 was the same day Janis overdosed on heroin.

Janis suffered incredible loneliness - she once said: "Every night I make love to thousands of people on stage, but I go home alone." The night she overdosed she was stood up by her male and female lover -- Yes, Janis was extremely bisexual. When rumors swarmed about her sexuality she said to a friend (wasn't released to the public till after her death): "You tell them that Janis Joplin has slept with over 200 men and 100 women!"

I've always had a passion for music and I grew up on soul/R&B music, but I must say - if it was not for my discovery of Janis Joplin I would've never learned the blues. Sadly, many of our black artists today, or even yesterday, do/did not give credit to that "bastard part of black life." We've forgotten names like Memphis Minnie, Ma Rainey, Muddy Waters, Leadbelly, Odetta, Bobby Blue Bland, Screamin' Jay Hawkins and so many others. My discovery of Janis at 20 years old (not saying she is the only path to this road) helped me to fall upon the true beginnings of soul music.
Janis also helped me tap into that place in myself that I sometimes avoid in fear of feeling too much … in fear of not coming back to the shell … in fear of being judged … in fear of the consequences of the truth. Janis taught me you have to push and take risks for yourself if you want to even have a chance at succeeding. As she once said: "I may never be happy, but I'll be fucked if I don't try!" Rest in peace Janis -- and the drinks are still on Pearl!
Labels: LEGENDS