music: "Dress You Up" by Madonna ... "You've got style that's what all the girls say... "


As many of you know I am in the publishing process of my first novel Ball-Shaped World. I am hoping to have more info on a release date in the next few months. There are many references to the ballroom scene on the blog and several of you have asked "What is a ball?" -- wanting to know more. So, I will be starting a new monthly feature, which will highlight a "celebrity" in the ballroom scene .... this will give everyone an idea of what the ballroom scene is about from the true stars, statements and legends.

My first feature is on the diva above ... Brenda Revlon. I built a relationship with Brenda when I was in the House of Latex in the late 90s. Brenda has been gracing the ballroom floor for over ten years --- annihilating in her category for "realness," which is battling other femme queens who convincingly pass for a female. However, Brenda's story and insight transcends ballroom and even her experience as a transgender woman -- she reflects everyone's constant quest for so-called perfection, regardless of our race, sexuality, or gender we all want to be better and that is a HUMAN experience. I know there has been some debate on my blog and others about transgenders in the community, and I hope Brenda's story will scrap away some of the toxic ignorance. In addition, for my readers in the ballroom scene Brenda offers some interesting and honest insight on how the scene has changed.

Special thanks to the realness diva herself, Brenda Revlon, for being so open and revelatory about her experiences. I believe telling the TRUTH no matter how raw it is, truly frees others. In addition, I encourage anyone who is, or knows someone who is, going through the transgender experience to read this interview.

Note: "butch queens" are the actual men in the ballroom scene while "femme queens" are the male to female transgenders.

R-E-V-L-O-N


How would you describe the ballroom scene?
Brenda: It's a place where people of color show their peers what they've done with themselves, or what they've accomplished. For me, I came, I did this with my life and I bring some of my life to the ballroom scene, but I don't make it just about the ballroom scene. Back in the day when I started walking in late 1994 I was a Latex, already out and a ballroom spectator. Either they [the ballroom community] saw you, or they didn't, and it's still like that. I was fortunate enough to have that form of presentation that made the judges go up
. Also, I brought my own style to it and I learned from the girls back in the day to make my mark whether people wanted to accept it, or not. The ballroom scene was this magical place where you could show what you created in terms of being a femme queen, or a transgender woman, and how successful you've been at it, and get your props for it.

How has the scene changed since when you first came out in the mid 90s?
Brenda: It's changing, it's evolving … the balls used to be more fun. I use to love getting prepared and going to a ball -- you remember, back in the day you would love to go to a ball. Now, I really have to feel the category I'm going for. It's been so violent, it's getting to the point that I don't even want to go to certain balls - unless my house brothers and sisters are there because there's so much animosity. As you go up in the ranks more and more girls hate on you, or they love you. I guess they saw something in me, went up for me and they still go up, and I'm honored for that. It's just gotten very violent ... it's like the magic is gone, or if the magic is not gone it's going, but the beautiful thing is people like Jack Mizrahi are doing other things with it and the internet has influence on the ballroom scene -- good and bad.

Who were the girls you looked up to and appreciated when you came out?
Brenda: The girls I looked up to were the legendary Carmen Xtravaganza, Stephanie Milan, Octavia, Arbert Evisu- my gay mom, Ashely Icon, Banjee Angie, Sania ... all of the Xtrava girls like Brenda Xtravaganza, David Xtrava … Dre Ebony and Jay Manolo-Blahnik.

Who right now in the scene are you really living for?
Brenda: Well, I live for ME! (laughs) Who I admire in the scene right now ... it's a hard one.. there is this girl in the House of Milan, Latin girl, I think she is the bomb and she's so sweet. I think Paula Mizrahi is beautiful. Barbie -- she is beautiful.

What do you think of the way vogue femme is now with the dramatics?
Brenda: To be honest … if this is the new way of voguing femme, it's cute for them. I think - and the majority of old school femme queens will back me up on this -- to me that's not real femme queen performance. Vogue use to be about being graceful, being beautiful ... when Sania and Ashley thought about dramatics, it was still dramatic, but with beauty. You would never see Sania slamming her back to the floor. Femme queen performance was supposed to be about selling what you've accomplished and using it in the battle. A lot of hand and arm performance, sexiness and posing ... Kristina, Sania and Venus Revlon, it was a scandal - she made you want to look at her. I'd rather see femme queens really vogue soft, feminine, alluring - not tossing your hair in whips, but more laying it out like your posing for a magazine ad, or an editorial. I don't care for dramatic vogue for the butch queens or femme queens - it is a waste of my time at a ball, I don't pay attention to it. Kevin Prodigy or Tiny Ex-Bizarre must be gagging -- these are the ones that I think are the originators of butch queen vogue femme when it was a butch queen voguing like a femme queen. I think the grace is gone and it's bad.

Lets talk specifically about the transgender female experience - how young is too young to be in the scene, and go through the transgender experience? Do you think someone should do it separately?
Brenda: I truly believe that if you do feel like a female inside you should change your appearance so that your insides can match your outsides. There are cases where a lot of girls that are very feminine butch queens become femme queens because society says it's not okay to be a feminine butch queen. I, myself, knew from the beginning that I always wanted to be a female. I'm happy that I transitioned over so when I walk a ball I do it with pride, or I do it with my head up just like when I walk down the street. A lot of kids get pushe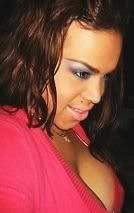 d into becoming a new gender because it's not okay to be a feminine little butch queen - even in the ballroom scene, we don't accept that now, we don't have categories for that. Either you are extremely a boy, or extremely a girl

What do you think of "sil" or getting pumped?
Brenda: I work in a place where we practice harm reduction - if you're going to make this decision to get loose sil go out and do your research -- find the best person that can give the best silicone. I don't think that real silicone exists anymore. There's industrial silicone, which is what they use to build ships and a lot of them are getting hurt by that. That's why I opted to save up my money and get surgery. Whether I think it is good or bad -- I just think if you're going to make that decision to go that route just know that it can harm your body. If you're life is more important than gender, my advice is to slow down, save, go to a plastic surgeon because the outcome is better versus going to get pumped in someone's kitchen, giving them your money and dying on the table ..

What have your experiences been like going under the knife?
Brenda: It was scary the first time, I worked my regular daytime job, my family supported me - I did what I had to do to get what I wanted because I wanted it done the right way, and I'm happy with my results. What happens is you're playing with wanting to look perfect, but at the end wanting to make the best you that you can be. The first time I had surgery I had my nose done, Adam's apple removed, breast implants, liposuction and lipo-sculpture all in one. The second time I had my ribs removed to give that shape. I had my forehead scraped, which is a feminization of the face.

Now I remember that you passed for a woman before any plastic surgery. If my homophobic father would've walked down the street with me and we saw you, I would be totally comfortable knowing he would not think you were once a guy. So, my question is why did you feel like you needed surgery?
Brenda: It gave me more confidence, it made me feel more secure in my own skin. It made the outside match more the view of me as a woman inside, but I almost got too obsessed. I had to settle myself down and get therapy. At one point I was seeking perfection and you know, I'm a girl with curves, I'm a Dominican girl! I had an eating disorder, I lost a lot of weight, but I caught myself and I talked to my therapist. I take hormones - I medically go to a doctor for my hormones -- I don't get hormones off the street. So, for other transgenders if you can, get your hormones from your doctor - have them monitor your liver and the outcome will be so much better. I've been under the knife six times … I had my arms done, I had three nose jobs, I had collagen in my upper lip ... I am castrated.

I've heard that after castration some go through a grieving process -- did you go through that at all, or did you just feel more free?
Brenda: It was weird for me in the beginning even though I know this is what I wanted, but it was important for me to by me own woman because at the end --- you're never a born woman so you have to remind yourself you are your own creation. It's about being you ... I guess that is what made me successful in the ballroom scene -- I don't follow other people, I don't want to be like other people - I just want to be me.

Is there a ball we can expect you to walk in the next few months?
Brenda: I'm looking at balls in the fall. If I see a category that I like then I'll do my best to come for it. I'm probably going to go to the Latex Ball to support. I try to support people that support me, but I just had surgery a couple months ago so I'm trying to heal before I come out.

What is your life like outside of the ballroom scene?
Brenda: I get up early in the morning; I go to the gym for an hour three times a week. I work at a non profit organization for a project that works with homeless youth in the midtown area - they are gay, straight, bisexual, or whatever -- I'm also a caseworker for domestic violence victims. At my job I'm mostly a counselor for the transgender girls.

Do you identify as a transgender, or a straight woman?
Brenda: I identify as a transgender heterosexual woman. I thank God that I'm passable -- that I go to work everyday and I don't get questioned. A lot of us don't have that privilege, but you know what, I support my transgender sisters. At a ball it's all about presentation so if you're going to walk against me then you have to be ready for a battle – BUT at the end that doesn't mean I can't support you. That's where you have to separate and not compare yourself. I'm going to try to be the best me I can. Mind wise, body wise, my family accepts and loves me, and that's what counts.


If you've never been to a ball before, or haven't been in awhile this Saturday, June 10th is the Ross Infinti & Andre Revlon Ball
in New York City
-
click here for details
.
Labels: Ballroom, Transgender