AUGUST BALLROOM FEATURE: GISELLE XTRAVA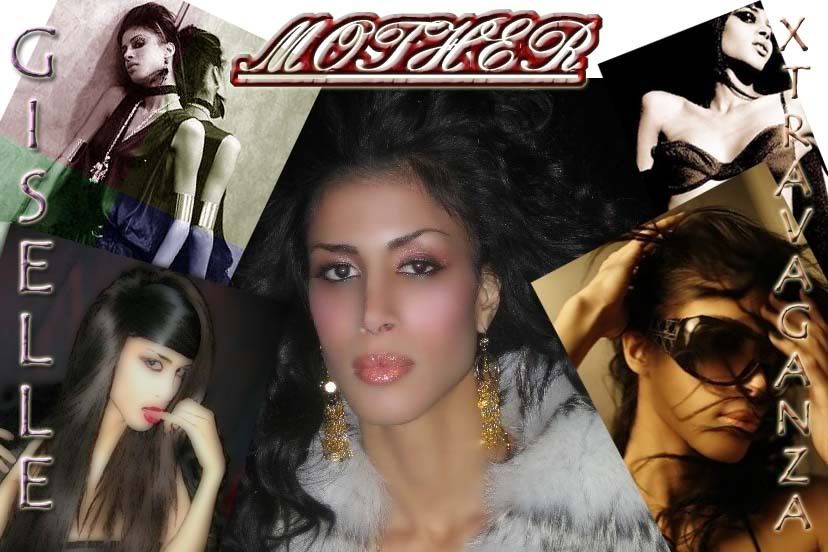 music: "Bad Girl" by Madonna
Giselle Xtravaganza has been gracing the ballroom floor since 1998, making a statement for herself in categories like runway, face and realness. In 2002 she became Mother of the legendary House of Xtravaganza. However, Giselle is not only a ballroom statement, but she has made a name for herself in the rigid gender roles of the fickle fashion industry. Giselle has an impressive resume having appeared in Iceberg ads, Flaunt Magazine, One World Magazine, The New York Times fashion section and much more. In addition, she has worked in several runway shows for fashion names like Vidal Sasson, Gaelyn & Cianfarini and Nico & Adrian. I sat down with Giselle in a candid interview where she discusses being a transsexual woman in the fashion industry, racial tension in the ballroom scene (yes, people just because we are LGBT doesn't mean we all get along!), escorting in the LGBT community and a reoccurring topic that has come up in previous interviews, which is the constant presence of .... SHADE.

How would you describe the ballroom scene?
Giselle: I would describe the ballroom scene as something I do for fun. It's competition and … SHADE. Very shady, it's gotten shadier actually.

How did you get involved in the scene?
Giselle: I got involved in the scene through my cousin. He brought me to a mini-ball at the old Clubhouse here in New York, that's the first place I ever went to … I was just in the audience and Al Allure came up to me and said, "Why don't you walk?" I walked, but I was so nervous because I didn't even know how to walk – I'd never been to a ball before that.

Were you already transgender when you walked and how did it make you feel walking that first time?
Giselle: I was already a femme queen and it made me feel good because I got a lot of life, but in the beginning I only walked mini-balls because I really wasn't into it. Al use to call me and I would tell him I don't want to go because I really didn't have too many friends in the ballroom scene.

How did you become the Mother of the House of Xtravaganza?
Giselle: I became the Mother through walking a lot, having a lot of people know me and winning trophies. It was also through Carmen and Jose Xtravanganza - they saw that I was the best one for the position at that time.

What does it take to be a Mother of a house?
Giselle: To be a Mother of a house is taking the role of an actual Mother. You have to Mother your kids -- I have kids that are older than me and I have to baby them. They come to me and say, "Oh mom, I can't believe this happened." I've had tons of problems with the old school and new school house members because of me getting the position of Mother -- mostly the old school Xtravaganza kids, including those who aren't Xtravas anymore. In the end I've grown from these experiences and it has made me a stronger person. So, shade is only given to those who deserve it!

I've heard from some people that when you joined the House of Xtrava you put the fire back into it - do you think there is any truth to that?
Giselle: I think the House of Xtravaganza always had its fire -- it is one of the first houses. I do think that I kept the fire going because a lot of kids didn't walk. For example, we would be at our table at a ball and the only person they would call, or recognize, would be me. I don't know why because there are a lot of beautiful girls in the house that were there before me. That's how I also became the Mother because they saw I was getting respect from the ball kids.

The House of Xtravaganza is predominately Latino-- do you think people have a judgment about the house because it has been around for so long and has always been predominately Latino?
Giselle: Yes, of course -- I hear this all the time! (laughs) That we're racist --- listen, if I was racist, or they were racist, we wouldn't walk a ball because the scene is predominately black. The only time people thought I was racist was when I became an Xtravaganza. Before that I never used to get that. But, I'm not going to lie -- a lot of the kids do say racial things, however, I think it goes both ways. I've heard a lot of other houses say, "These cha-cha bitches " or, "These Latin bitches." If an Xtravaganza gets mad they might say, "Oh, you stupid black bitch" - but it's the same thing. They might do it more because we (Latins) are very little in the ballroom scene, especially Xtravaganzas. The Latin kids don't like us for whatever reason, I don't know, maybe they're trying to prove to the other kids that they don't see us to try and fit in with others.

Do you think it is harder for the Latin kids to make a statement in the scene, or do you think it's more the Xtravaganzas?
Giselle: I think it's more Xtravaganzas. I don't think it's because you're Latin, there are plenty of Latin kids who get their life. Being an Xtravaganza really is a lot harder to win anything in the ballroom scene, or to get any respect. I'm over it ... I can only take but so much.

How do you feel about judging balls and you being that statement as Mother Xtravaganza judging?
Giselle: Well, a lot of people think when I'm on the judge's panel that I don't like them for whatever reason, and I don't even know them. Of course I see them, but I'm a person that I interact with so many different people that I really don't pay attention. Someone can come up to me and say hello three times and I still won't remember them because I deal with a lot of people. Not only am I involved in the ballroom scene, but I'm also involved in modeling so I see different people all the time. The last incident I had was supposedly because I didn't like the person.... I don't even know who the hell that person was. I found out later that he was a Milan and some things started and I was like, let me just get out of here. I really don't want to deal with that -- I go to balls to have fun and enjoy myself. Now, if I'm judging I'm going to be very fair and very honest.


Has the ballroom scene helped your modeling career?
Giselle: Actually, I can't complain - yes it has. It has in one way and it hasn't in another because a lot of times they see me at a ball and they'll say, I want you to come do a photo shoot, but … don't say you're an Xtravaganza. Some of the magazines, like gay magazines, will advertise that I am an Xtravaganza. In straight magazines they don't want me to even bring up Xtravaganza. I was with a designer who met me in the ballroom scene and he invited me to a fashion party. I asked if I could bring some friends and he said, "I hope they are not Xtravaganzas, or anybody in the ballroom scene." They don't want you to associate with the ballroom scene.

It just has a negative connotation to them?
Giselle: Yes, it has a very negative statement. Even being an Xtravaganza has a negative statement. A lot of people say it's based on drugs, and as the history goes many of them died of AIDS and things like that. Actually, I was at a ball and a girl who I won over came off the runway and said, "She looks fierce" and then she got into an argument with Jose. I don't care if somebody says I look fierce -- so I was telling Jose not to worry about it. She says, "You and Jose got one T -cell left" … I'm HIV negative, I don't have AIDS -- but I would never put down someone who has HIV. I did it once in my life, I was 15 years-old and nobody had to tell me anything. After hearing myself, I said -- wait a minute, I could never say that again, that's fucked up. No one can ever say Giselle puts down anyone for having AIDS. I've had friends of mine that I love dearly who have died of AIDS, and I'm sure the person that said that does too. Not only the House of Xtravaganza, but all the houses have their history with AIDS. However, they put more on the Xtravaganzas because it's been more in the media. I'm a very nice person when I'm interacting with people, but people have labeled me shady because I am the Mother of the House of Xtravaganza.

Before you were an Xtrava you didn't feel the shade like that?
Giselle: No, I didn't -- everybody was very nice to me, they lived and people wanted me in their houses. I really didn't know what any houses were back then that is why I choose the House of Allure -- I do adore that house because Al was always very nice to me.

What has been your journey with being transgender as far as your family, friends and yourself?
Giselle: I was pretty blessed with a family and I think the reason why I am comfortable is because of my mother, father, grandfather and everyone who has always accepted me. There is not one person in my family who are against what I'm doing -- people who are not in my family like friends of the family had a few comments, but my family shut that up right away. I was so blessed - I started transitioning at the age of 17 and I'm 26 now.

Do you ever say to yourself "Why wasn't I born a girl," or just feel cheated out of life?
Giselle: I used to, not anymore. I used to feel like I was cheated -- I never wanted to be a femme queen, I always wanted to be a woman, but you're stuck. You have to cope with it and I've learned to accept it, and actually praise it. So, I'm happy with the way that I am because I have a beautiful family, a boyfriend for four-years - what else do I really want? I model, I have my fun, I work at clubs, and I dance. I've done my bad things, I've done my good things, you know -- like everybody else.

What's your take on escorting in the transgender community?
Giselle: Escorting ... you have to do what you have to do. For a lot of those girls, and boys, escorting is part of the history of being gay in a way. It's part of the history because society is not going to accept a transsexual working at a business firm that's going through her changes -- maybe afterwards. If she is doing her changes she is going to have problems in school with the boys, or even with the teachers. I think a lot of people don't want to deal with it -- man
y go to escorting because that is their only way out. I've seen it so many times and I've been through my own little thing that I know this life is really hard for us with jobs and things like that, especially if they don't finish school. A lot of them, like me, want to transition so fast. I said fuck it; I made my changes right away. You have to pay for surgery, it's so much money -- how else can you get it? Even if you have a job these girls spend so much money on surgery -- I have friends that have spent $20,000 a month on surgery then sometimes they get addicted and start ruining themselves.

You can make that much money off escorting?
Giselle: Yes, you can make a lot of money -- I know girls that make $2,000 a week, or more and within two months they get surgery.

Do you feel pressure to get more surgery?
Giselle: Never. Actually I have more people telling me - don't do this, don't do that. I see where other girls get pressured into it. I had two girls a long time ago that said, you can get your body done and your nose done. I was like, no, sweetie. Why would I take their advice if I didn't like the way they looked? They looked horrible to me -- why would I go out of my way to get myself what you want me to do when I don't even like your look? A lot of it is psychological too and if somebody tells you, oh you should do this, and you should do that -- you start looking at yourself. Let's say you get spooked one day on the street and you think, "Maybe it is because of what they told me so I'm going to get it done."

Who are some of your favorites in the scene?
Giselle: I like DaShawn, Ashley Icon, Whitney Mugler ... God, I really don't have that many favorites. I used to have so many, but I after I got to know them -- I was really turned off.

Who are some of the people you looked up to when you first starting walking balls?
Giselle: Jose Xtravaganza, Carmen Xtravaganza - basically that is one of the reasons why I am an Xtravaganza and I have stayed … it's only because of Carmen. I really used to look up to models ... not really people in the ball scene.

As far as modeling do they know you are transgender?
Giselle: Sometimes they do, sometimes they don't - it depends. When I used to get sent out to castings the booker might know, but they just tell me not to say anything. It was really hard at times because I am not a sex change so it would be a little bit harder to wear certain things. I could do it, but if they give me a see through thing I can't wear it - what am I going to say, I'm not wearing it? You can say that but they would be pissed ... thank God that never happened.

How do you transcend who does or doesn't know when you model?
Giselle: I deal with it, but sometimes I feel very uncomfortable. When I'm out, especially at an after show because during the show I feel like, I'm going to do my thing, I'm going to walk. Then after the show with all the girl models, all the guy models and were all associating it's like, I am a part of their world … but then I'm not. That's one of the reasons why I started cutting down on the modeling a little bit. I wouldn't mind modeling as transgender, but nothing to make fun of . Like Claudia, I see it on the Janice Dickinson Show, but Janice Dickinson made a little spectacle out of her. I would've done it, but what came off of that I didn't like -- calling Claudia a "him" on camera ... Tyra Banks did a good job when she had the transgender contest on her talk show, she kept it very respectful. However, that's going to happen, people are just not aware of how to treat people ... especially Janice Dickinson, but she's hot though. (laughs)

If you weren't an Xtrava what house would you be in?
Giselle: Oh God ... this is going to cause controversy. (laughs) I like Andre Mizrahi a lot so I would be a Mizrahi.

Is the House of Xtrava having a house a ball anytime soon?
Giselle: We're plan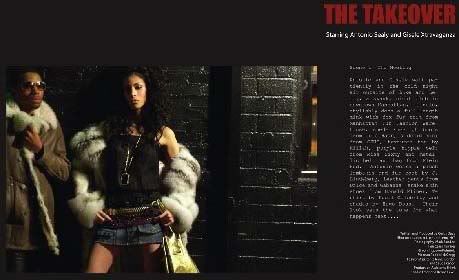 ning on one, but we're having lots of problems with certain people ... so when we have it, we want it to be very nice and well planned. We're going to wait a little longer, like six months or something, but we're going to have our ball.

Are there any balls you're looking to walk?
Giselle: I'm going to the Latex Ball, but I'm not interested in walking. I just want to wait for the big balls to come maybe like an Ebony Ball, or another P.O.C.C. ball.

What's the biggest misconception people have about you being transgender?
Giselle: There are many things ... my sexuality alone. Guys are different, if they think I'm a girl they treat me a million times better and when they know I'm a transsexual they just want sex. Some guys are different, but mainly it's just thinking you are more sexual than what you are. Also, that you are flamboyant and I guess we are naturally, but not how people think.

And you identify as transsexual versus a straight woman?
Giselle: I don't live in a fantasy world - I'm a transgender woman. I know a lot of femme queens and transsexuals that identify as a straight woman. I think that's fine and that's beautiful, but I consider myself transgender.

Pasted below is a clip of Giselle Xtravaganza! If you can't see the clip please CLICK HERE.
Labels: Ballroom, Transgender