Clay Cane is a New York City-based writer who is recognized for his contributions in journalism. Clay is a regular contributor for various print and online publications such as The Advocate and BET.com. He is the author of the highly anticipated novel Ball-Shaped World, which is a fictionalized account of the black and Latino ballroom scene. Also, he is the Entertainment Editor at BET.com and a member of New York Film Critics Online. He can be reached at claycane@gmail.com.




This weblog is licensed under a
Creative Commons Attribution-Noncommercial-Share Alike 3.0 United States License
.
© 2005-2009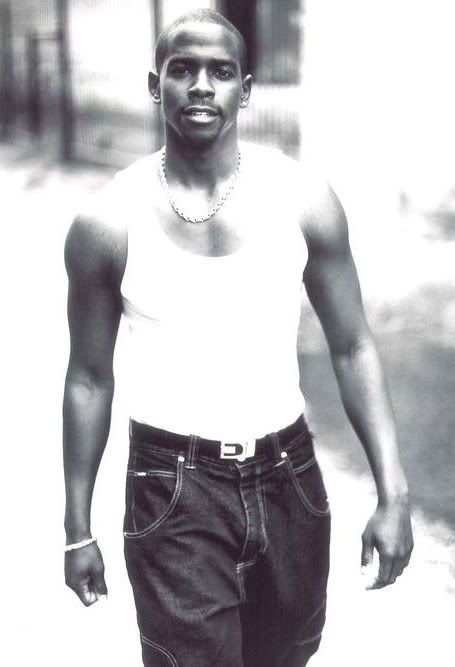 In the midst of the Dreamgirls hype, drama and saga it can be easy to forget the several other talents in the Oscar winning film such as the singer turned actor Keith Robinson who played C.C., Effie White's talented and visionary brother. Robinson was more than eye candy in the film (Lawd knows many of you were lusting!) by delivering a strong performance, which garnered him more rave reviews than Jamie Foxx's performance. From his performance on the silver screen to even on stage at the Oscars, Keith Robinson is not to be ignored.



Dreamgirls is available on DVD May 1st

and while Jennifer Hudson is at center of the "dreams can come true" story, Robinson's journey is nothing short of a "dreamboy".

Born and raised in the Deep South, Hollywood wasn't even a dream that could be dreamed for the 27 year-old. In a story that comes right from a rags to riches Hollywood plotline, Robinson packed his bags and drove to Los Angeles in hopes of breaking into the music industry. Unexpectedly, Robinson would land acting roles appearing in UPN shows and in FOX's Power Rangers as Green Lightspeed Ranger. All the while working on his music he would continue on his grind, which would lead him to a role in the legendary Broadway musical turned movie Dreamgirls.

Currently, Robinson's musical career is coming to life with his first single "The One" available on
iTunes
. In this interview Robinson discusses how he landed the role of C.C. White, his journey to Hollywood and much more.

This is a pretty big role for you—how did they find you for this?
Yeah it's huge. There were a lot of rumors about the project and

I think originally Usher was supposed to play my role

so after that it became available. I went through the audition process, which took about an agonizing four months but it worked out.

Why agonizing?
The wait—I went in July because I was doing another show called Over There. I went in and did the material for Bill and the producers and I had a whole season of Over There to shoot. If the second season got picked up I probably wouldn't have been able to do the project—they were still going through the process of casting Effie. So, I was hearing rumors that I was up for it and there were other people up for it. I tried to block it out then somebody would remind me of it. As it got down to crunch time it was just really tough to wait. Not hearing anything would just kill you.


Had you done any musicals before this?
I hadn't done any musicals but I'm a singer. That's actually why I moved out to Los Angeles because me and the fellows were in college; we got a deal for a second and the deal kind of fell through. So, we just loaded up the car and drove all the way to LA did the whole artist thing, lived in hotels and apartments and slept on couches trying to ship demos. In the process and about two months there I met somebody, went to an acting class just to kind of observe it because I heard they shot a lot of film and TV in LA. They didn't have enough readers so the teacher asked me to read and thought I was good. She called me back a few weeks later told me go read for this role, which was Power Rangers. At the time I was telemarketing and just hustling and I was like—cool! So, I ended up getting the role. After that I really began studying the craft while I was doing my music.

How was the ambiance of the set? Having huge stars and on the other hand, having people who are just starting?
You know what, it was surprisingly comfortable. I remember the first day going to work I was wondering like the diva-isms and the entourage that kind of go along with being around big stars—not only one but you got four or five at the same time. I think everybody was so excited about the project, the magnitude of it and everybody kind of had a common respect for each other's work that once everybody stepped on the mark that was out the door. I never really felt any type of hierarchy or any type of vibes or airs, which I think what makes this movie so special is you kind of see the energy, the camaraderie between the characters and between the people. That's how it was in between sets. We'd be singing, Jamie would be cracking jokes—it was a really good atmosphere.

Had you heard of the musical beforehand or knew about it?
The song I was most familiar with was of course "And I am Telling You". Of course, I was a real short guy when it was on Broadway. [Laughs] So, basically that was the only song I was familiar with. For the most part, I hadn't heard a lot of the material.

The pacing of the movie is interesting. It's an unusual musical in that the musical theater element doesn't come into it until quite a ways into the film. What kind of coaching did they give you from it's sort of a straight movie for awhile, then it becomes musical theater?
I think that really boils down to the way the director edited it to have a certain pace that it wouldn't become so kind of hunky-dory. Where if we're singing about sitting down or tying a shoe—he wanted to make sure the songs really made sense to the text. When it pertained to us as the artists he wanted to make sure we articulated the songs as if we were speaking them.

A lot of times

because we're all artists we get into some riffs, some adlibs, some grunts and we had to pull that back

and make sure we we're communicating the song.

Who were you most excited to work with?
Probably Jamie…creatively I've kind of followed along the same path just in the fact that I'm a singer and actor also. He's the kind of artist that I look to for my generation. He shows you can excel exceptionally in more than one area—he's like a two sport athlete. I pride myself on being versatile and Jamie is an artist that I look to.

What did you learn from working with him?
The biggest thing I learned from him is in the midst of the chaos that goes along with stardom it's just to remain true to yourself. He was always very charismatic and open to share his journey with me on and off the camera. It seems like he's always been like that but we've only known each other for a little over a year with this project…it seems like that same positive energy that he has about just being an artist he probably had from day one. He hasn't lost that and that spoke the loudest to me.

How was Eddie on the set? He doesn't talk to print anymore, so it's always a big mystery. Eddie, he's all business. This experience for me was all business. We talked a little bit but in between takes he was very focused. We might of had two conversations. One time we were at Frank Sinatra's house and I asked him how much this house might have cost back in the day. Just to kind of break the ice a little bit—for me it was this is a guy I've watched since I was very young. To get a chance to work with him…it was a little bit surreal in the beginning. He's a very cool guy, though. But, when Bill Condon said "action" he would morph into this character. He's amazing, you really see this as the legend, this is Eddie Murphy. You see why because he just explodes and you say cut and he's right back.

When you watched the finished movie for the first time, what was your feeling?
I felt really excited like I just got off the treadmill—like I was running. It just takes off from the beginning and all the way through. Aside from that for me watching my work it's a very technical experience—you watch cuts, you watch edits, you watch how they get into different scenes. So, I try and shut that off. When I watch it with a huge audience who hasn't seen it before I think I can become more of a fan and sit back and enjoy the moment.

What are you doing now?
I'm working on my album right now. I've been gigging a little bit around New York and LA. I think this is a great vehicle to introduce myself as a musician because those that do know me, know me as just an actor, which is really my second love.

Do you play an instrument?
I play keys a little bit, but I'm basically a singer-songwriter. I have a band but it's a basically my band that plays behind me.

What kind of sound?
Soul—soul, R&B. It's a fusion of classic soul and hip-hop.

There are very few African-American movies, especially in the past couple years that have come out with that high of a budget, that much promotion—it's big. This is your first film, where do you feel like you'll go from here—this is really huge to top.
Yeah, it's hard to top. I just want to dive into different characters that are going to allow me to really show a lot of different sides of myself. I think me being part of a huge project like this makes my desire to be more of a leading man. It makes me want to tell more stories that are just as pertinent and relevant to us.
I think I kind of bridge the gap between that small-town kid, who thinks Hollywood and being a star is so far away. I was that same kid, I grew up in South Carolina, Georgia--TV and movies were not even tangible. So, I think I represent that guy who dreamed.

It makes me want to reach back to a lot of young

kids where I came from who might not even have cable

and let them know that it's possible. If I can do it, you can.

To learn more about Keith Robinson check him out at
http://www.keithrobinsonofficial.com
!
Labels: Dreamgirls, Interviews
Posted by Clay :: 12:00 AM ::
3 comments
---------------oOo---------------



After Elton
Blog Xilla
C. Baptiste-Williams
City Chick Mag
Concrete Loop
Crunk & Disorderly
Da Doo-Dirty Show
Doug Cooper Spencer
Drew Reports
The Fashioniste
The Floacist
Frederick Smith
Gay Trix
Hikaru Land
Hot Music Beat
J's Theater
Jasmyne Cannick
Just Ask Trent
Keith Boykin
Kilimanjarota
Lol Darian
Love B. Scott
Melody Plant
Method Atelier
Monaga
My Buddies Live
My Life on Rewind
My News Booth
New Chatter
Prodigal Sun
Rockacandy
Rod 2.0
RNB Junk (Italian)
Star Pulse
That Grape Juice
The Cynical Ones
The Daily Voice
The Pop Culture Junkie