Clay Cane is a New York City-based writer who is recognized for his contributions in journalism. Clay is a regular contributor for various print and online publications such as The Advocate and BET.com. He is the author of the highly anticipated novel Ball-Shaped World, which is a fictionalized account of the black and Latino ballroom scene. Also, he is the Entertainment Editor at BET.com and a member of New York Film Critics Online. He can be reached at claycane@gmail.com.




This weblog is licensed under a
Creative Commons Attribution-Noncommercial-Share Alike 3.0 United States License
.
© 2005-2009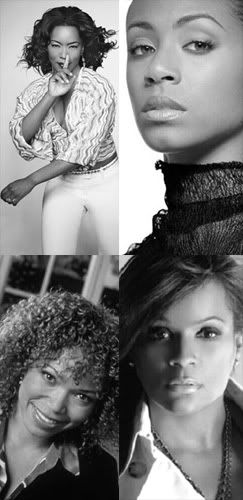 Thank you to everyone who emailed their submissions -- I definitely had so much cackcles! I wasn't the only person to pick a winner -- I just couldn't decide on my own.


So, congrats to Seahawk of Oakland, CA for winning the

Girlfriends Season Two

DVD giveaway. To get your copy pick-up the DVD, which is in stores today. Expect tons of special features and even a guest appearance by

Donnie McClurkin

....no, he's not playing on of the girlfriends! But, I'm sure he has his own group of "gurlz" he hangs with.

Check out four-girl ensemble below. I think this would be a hit series!
MARRIED WITH BEARDS


Starring:

Angela Bassett

,

Jada Pinkett-Smith

,

Tisha Campbell

and

Tameka Foster

.

Co-starring

Oprah Winfrey

as the boss, who lives with

Gayle King

, her "very best friend, that's all." And,

Hill Harper

as William, the hot single office mate who seems gay as hell, but for some reason we bend reality and mate him with females.

Each week they have a visit from a list of revolving sit-com coaches:

Bea Arthur

,

Sarah Jessica Parker

,

Tracee Ellis Ross

and

Darryl Stephens

.

Premiering Sunday at 9 on Showtime!
Labels: GIVEAWAY
Posted by Clay :: 12:09 AM ::
5 comments
---------------oOo---------------



After Elton
Blog Xilla
C. Baptiste-Williams
City Chick Mag
Concrete Loop
Crunk & Disorderly
Da Doo-Dirty Show
Doug Cooper Spencer
Drew Reports
The Fashioniste
The Floacist
Frederick Smith
Gay Trix
Hikaru Land
Hot Music Beat
J's Theater
Jasmyne Cannick
Just Ask Trent
Keith Boykin
Kilimanjarota
Lol Darian
Love B. Scott
Melody Plant
Method Atelier
Monaga
My Buddies Live
My Life on Rewind
My News Booth
New Chatter
Prodigal Sun
Rockacandy
Rod 2.0
RNB Junk (Italian)
Star Pulse
That Grape Juice
The Cynical Ones
The Daily Voice
The Pop Culture Junkie