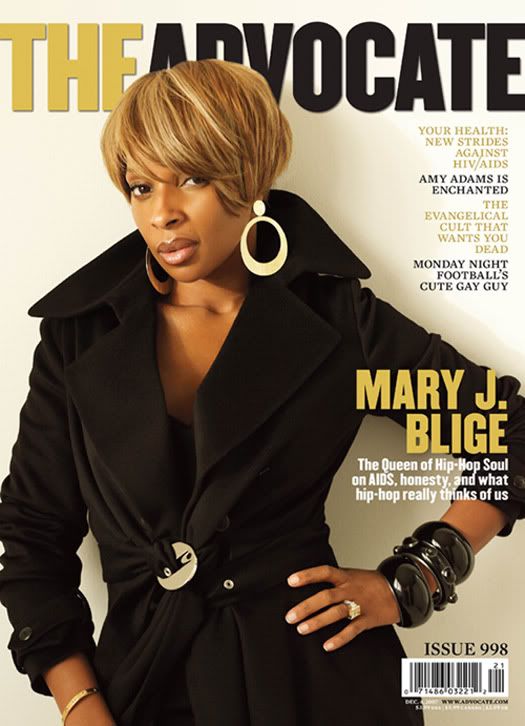 It would take the gays to give

Mary J. Blige

an absolutely beautiful cover. This has got to be the best Mary J. Blige cover I have ever seen. See how Mary's forehead is perfectly covered? Take notes Vibe!
Miss Blige is emoting like she always should be, more importantly, I am so happy to finally see Mary doing gay press. While Mary has done a little gay press here and there she has never ventured to a huge magazine like
The Advocate
. The magazine will be in stores the first week of December.

Here is a quote
on having gay fans:
"The majority of them are [gay], and I have to really make sure that they know I'm paying attention to the fact that they support me, and I support them."
"I believe that at the end of the day, it's the honesty that draws [the gay community] in. And the honest thing is, who am I to have anything to say about anyone? Because I'm such a mess myself."


Tell it like it is Mary!
Every black female artist should be doing gay press because when the straights abandon you the gays will stay by your side. Straight people in their fifties are not buying

Patti LaBelle

's or

Barbara Streisand

's music, but gay people in their fifties are. Get it?


The writer on this piece is

Ernest Hardy

and photo credit goes to

Kwaku Alston

.



PS. Doesn't Mary remind you of that straight girl in high school or middle school who beat up the thug boys for picking on her gay best friend?



Labels: MARY J. BLIGE