Clay Cane is a New York City-based writer who is recognized for his contributions in journalism. Clay is a regular contributor for various print and online publications such as The Advocate and BET.com. He is the author of the highly anticipated novel Ball-Shaped World, which is a fictionalized account of the black and Latino ballroom scene. Also, he is the Entertainment Editor at BET.com and a member of New York Film Critics Online. He can be reached at claycane@gmail.com.




This weblog is licensed under a
Creative Commons Attribution-Noncommercial-Share Alike 3.0 United States License
.
© 2005-2009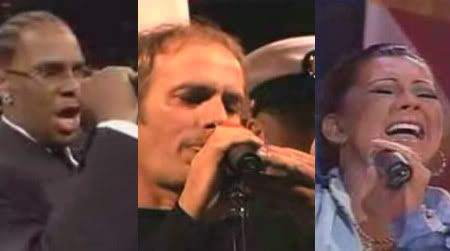 Ears are still recovering after
Ashanti's sloppy performance of the "The Star-Spangled Banner
" last week, which has made it to the vicious critics on YouTube. Actually, I don't think her performance was that bad, but any moment to mock Ashanti—I'm down!

Ashanti's weak performance caused me to reflect on some of the more atrocious performances of "The Star Spangled Banner", which actually come from people who can sing.
Here are some of the greatest hits:

I am a Christina Aguilera fan but this 2004 performance of our National Anthem was a horror along with her Elvira snatched back ponytail. First, there was the peculiar arrangement, which attempted to mimic Marvin Gaye's legendary 1983 version. Aguilera and her drummer stumbled through an R&B; beat for beat breakdown that only resulted in a messy spangled catastrophe. Plus, Aguilera sadly improved wild notes that were running away from her in Courtney Love-ish ghastly growl. Trying to add her own "flava" Chrissy punched in a "yeah, yeah" between cracking notes. One of Aguilera's weakest performances, which is sad considering this is one of the most popular songs of all time.

Check out the vein popping note at 2:19!
R. Pissy, who is convinced he is the Marvin Gaye of our generation, haphazardly attempted to add "steppin'" to the National Anthem. Well,

just like a pedophile with a bladder problem

, Pissy must've thought this version would appeal more to teens, but it ended up being cheesy and boring, regardless of his good voice. Less is more people, I like a nice a cappella or standard orchestra version of the Jim Crow classic!

Check out the clip below, which even includes dancers…Lawd!
I really do like Mya but I have to be honest…her whispering in tune for over two minutes for "The Star Spangled Banner" was unacceptable coming from a professional singer who has been in the business for nearly ten years. Also, who thought of Mya singing the National Anthem—

was Roseanne Barr not available for a second time?

Mya attempted to sing a bit louder toward the end, but then completely fell apart on the riff at 2:00. It's not about you Mya…
The Robin Thicke of the 90's, Michael Bolton, was a complete embarrassment for all patriotic white folks across the Nation.

Mr. Bolton is a good privileged hetero white man so this song was basically made for him and he had the audacity to forget the words!

Oh yes, the crowd gave a big hellish "boo!" as Mikey blanked on the lyrics, casually looked to his hand and even took more than a few seconds to read the words—not even trying to be slick with it! To make matters worse, Bolton attempted some desperate over singing, sounding like Bruce Springsteen getting an enema. Mikey better be careful before his white man card is revoked!
Check out the hand glance at 49 seconds!
After all those terrible performances of "The Star Spangled Banner" check out my favorite rendition from a flawless Natalie Cole in 1994.
Labels: CHRISTINA AGUILERA, MYA, R. Kelly
Posted by Clay :: 9:00 AM ::
17 comments
---------------oOo---------------



After Elton
Blog Xilla
C. Baptiste-Williams
City Chick Mag
Concrete Loop
Crunk & Disorderly
Da Doo-Dirty Show
Doug Cooper Spencer
Drew Reports
The Fashioniste
The Floacist
Frederick Smith
Gay Trix
Hikaru Land
Hot Music Beat
J's Theater
Jasmyne Cannick
Just Ask Trent
Keith Boykin
Kilimanjarota
Lol Darian
Love B. Scott
Melody Plant
Method Atelier
Monaga
My Buddies Live
My Life on Rewind
My News Booth
New Chatter
Prodigal Sun
Rockacandy
Rod 2.0
RNB Junk (Italian)
Star Pulse
That Grape Juice
The Cynical Ones
The Daily Voice
The Pop Culture Junkie