Clay Cane is a New York City-based writer who is recognized for his contributions in journalism. Clay is a regular contributor for various print and online publications such as The Advocate and BET.com. He is the author of the highly anticipated novel Ball-Shaped World, which is a fictionalized account of the black and Latino ballroom scene. Also, he is the Entertainment Editor at BET.com and a member of New York Film Critics Online. He can be reached at claycane@gmail.com.




This weblog is licensed under a
Creative Commons Attribution-Noncommercial-Share Alike 3.0 United States License
.
© 2005-2009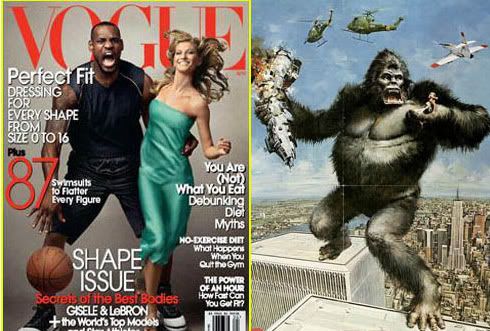 I was going to write a post about the now
"controversial" April Vogue
cover above. I think shouting racism for a fashion magazine is an example that we are screaming racism for the wrong and most trivial things. However, a friend of mine sent me the email below and I thought the way he put it was perfect.
****
Lebron James is considered very attractive probably by most white folks. It's many black folks who fail to see his attractiveness because his eyes aren't slanted like Tyson Beckford's and his features not angular enough for our (blacks) light-skin taste. I guarantee the majority of white folks who look at this cover do not remotely think of King Kong. I don't see any saying "Wow, I almost thought that was King Kong."
Put Giselle's boyfriend (plays for NE Patriots) in the same stance and it's the same thing. Quite simply, I think this NEEDS to be on the cover to take the shock value out of it. Heck, I was shocked when I saw Alek Wek on the cover of some magazine. She was obviously made a bit blacker, wore a white shirt to amplify the skin color contrast and had no noticeable make or weave. Many black people said "Whew...you sho' is ugly."

I think these types of things are plays on stereotypes that somewhat debunks the racist myth behind it.

We are not used to seeing ourselves looking ethnic on these magazines. We are used to seeing ourselves over-Europeanized.




Labels: Fashion
Posted by Clay :: 10:23 AM ::
13 comments
---------------oOo---------------



After Elton
Blog Xilla
C. Baptiste-Williams
City Chick Mag
Concrete Loop
Crunk & Disorderly
Da Doo-Dirty Show
Doug Cooper Spencer
Drew Reports
The Fashioniste
The Floacist
Frederick Smith
Gay Trix
Hikaru Land
Hot Music Beat
J's Theater
Jasmyne Cannick
Just Ask Trent
Keith Boykin
Kilimanjarota
Lol Darian
Love B. Scott
Melody Plant
Method Atelier
Monaga
My Buddies Live
My Life on Rewind
My News Booth
New Chatter
Prodigal Sun
Rockacandy
Rod 2.0
RNB Junk (Italian)
Star Pulse
That Grape Juice
The Cynical Ones
The Daily Voice
The Pop Culture Junkie