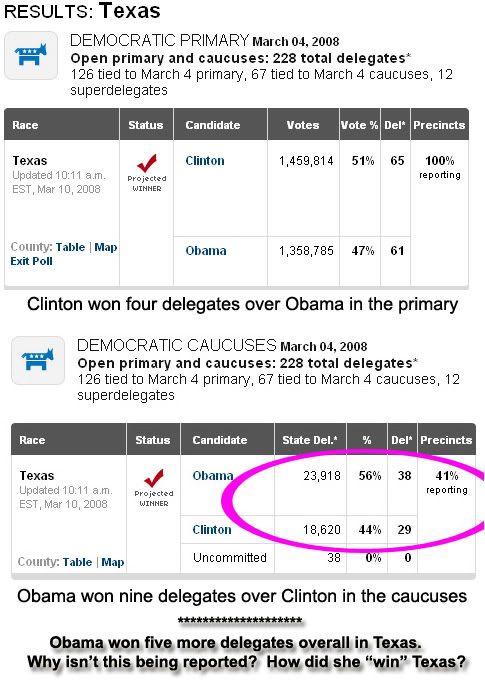 As you see from the image above Senator Barack Obama won Texas by five delegates. Senator Hillary Clinton won the primary by 4%, he won the caucuses by 12%. Texas was part primary, part caucuses -- not two different elections, so the combination of the two equals the winner. If he won five more delegates than Senator Clinton why is she still declared the winner of Texas? Obama won three more delegates in North Dakota than Senator Clinton and he was declared the winner. Obama won only two more delegates than Senator Clinton in Iowa and he was declared the winner.



A few more questions as I see the way the media is spinning Texas, Obama's win in Mississippi and the racist comments from Geraldine Ferraro.




Since it is clear that Obama is the winner of Texas overall, then shouldn't Clinton end her rant that Senator Barack Obama cannot win big states?




Didn't Bill Clinton say Miss Hill needed to win Ohio and Texas to stay in the election? Well, she didn't win Texas...




Why are pundits downplaying Obama's win in Mississippi because he didn't get enough white votes -- he won by 22%.

CNN pundits

say this is Obama's most "racially polarized" win. Mississippi is the most racially divisive state in the United States of America. The idea that Southern whites, many who are still alive from Jim Crow, didn't get his vote shouldn't be a shocker. Obama has proven he can win the "white" vote across the country. Using Mississippi as an example of him not winning the white vote is deeply misleading. Furthermore, in the general election Mississippi always goes Republican.


Why does the media refer to Senator Hillary Clinton as the first potential "woman" president? Aren't we leaving something out? She is a "white woman". Let's be even more clear, a rich, privileged, Ivy League white woman who hasn't struggled a day in her elite life. John Edwards was constantly identified as white. Clinton's "womaness" doesn't transcend race or remove her white privilege. While Obama is not an oppressed black man, he is not playing up race like Clinton is marketing her gender.



Geraldine Ferraro says Obama is only winning because he is black

. Ferraro's reasoning is that Obama is so inexperienced he is getting by on race. However,

Bill Clinton won the 1992 Presidential Election younger than Barack Obama and with much less foreign policy experience than Barack Obama. What was her reasoning for Bill Clinton's win?