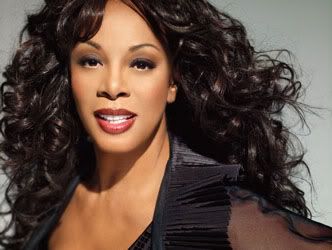 Lawd knows I am working hard for the money. In this week's issue of
HX Magazine,
which is their LGBT pride issue, I have two interviews:
Donna Summer
and
Ashanti
. The mag also includes a great interview with
George Michael
.
Thanks to everyone
who submitted their questions
, I only had a limited amount of time with the disco diva but I was able to get in some of your questions.
Donna talks about her new album
Crayons
, being a Christian with her gay following, and when I asked her about about gay marriage she answered,
"I don't really have an opinion on it."
Click below for the full story.
Donna Summer: The Queen is Back
Also, I know some Donna Summer fans emailed me from her web site asking about her unreleased material. The question didn't make the interview, but here it is:
Are there any plans to release your unreleased material on iTunes or a box set?
Donna Summer: My husband and I have talked about that, I would love to do it—love, love, love to do that. There's so many other songs that haven't been released that the fans don't even know about that have been sitting there in my vault forever, some really good songs as well. Hopefully, now with iTunes we'll be able to put them out. As soon as my record deal has ended because I can't do it without permission from the record company—as soon as that has come to conclusion, I will at least be able to pop everything on there and make another deal.
***
Here is my last interview with Ashanti for
HX
, which you can pick up anywhere in Manhattan.
Originally published in
HX
.
Diva!
Ashanti declares appreciation for her beloved gay crew

by Clay Cane
Though not a track on
The Declaration
, her first studio album in four years, Ashanti's "Diva" is turning out the Internet. The campy runway track (which dramatically opens with Ashanti declaring, "Don't come for me between two and three because I'm in the beauty shop—bitch!") shouts out her favorite queens, including RuPaul, Elton John and even Perez Hilton, making it possibly the first song a prominent R&B artist has recorded strictly for the children. So we asked the 27-year-old diva to sound off on her gay circle, hip-hop homophobia and her biggest rival, Miss Beyoncé.
Clay Cane for HX
: In terms of music, where have you been these last four years?
Ashanti: All over the place. I had the opportunity to film John Tucker Must Die and Resident Evil: Extinction, and after the last movie I said, "Let me step in the studio and get those creative juices rolling again!" Music has changed so much and it's still changing. Every few months it's a new sound, or something else is being injected into music. You definitely have to keep up with the pace. I've grown so much, I've learned so much, and with this project [The Declaration] I've done everything by myself. I executive produced it—behind the scenes, in front of the scenes. Creatively, it's definitely something really different.
I knew you had a gay following when I saw Ashanti and Beyoncé drag queens battling it out at clubs. When did you know?
Emil Wilbekin—he used to be the editor at Vibe—was one of the first to really believe in me. He put me on the cover of the magazine—before the album came out, before the frenzy of 500,000 albums sold—and I did a performance at this gay club. It was off the chain! I had so much fun; it was just so much love.
Do you have gay people in your inner circle?
Yeah! The industry is run by the gay hairstylists, gay makeup artists and gay stylists.
You have to have somebody gay in your crew if you're going be successful.
A dear friend of yours, Ja Rule, famously said in September 2007 that "gay people are fucking up America." Why do you think there's so much homophobia in hip-hop?
[Laughs] I don't know, boo-boo! That's kind of foreign for me to comment on. I don't know if guys are intimidated or not comfortable... I love gay guys! [Laughs] I guess you just have to be comfortable in your own skin.
If you could be a man for a day, what's the first thing you would do?
I don't wanna say it! [Laughs]
That's the same thing Janet Jackson told me. You can say it—let it out!
If I was a man for a day... I would throw out all the tampons in the house! [Laughs] Don't have to worry about the cramps, no hair and makeup!
Who's your celebrity girl-crush?
What?! [Laughs] I'm strictly!
How do you feel about the Beyoncé versus Ashanti comparisons?
I think it's just natural; people are always going to do it—it's part of the game. You have two females who are successful and doing what they love. There is definitely going to be comparisons. I think that we're just very different artists, we have very different music. There is always room for good music.
If an Ashanti drag queen had to battle a Beyoncé drag queen, what advice would you give the Ashanti drag queen?
Do only you—and swing your hair really hard!
The Declaration
(
Universal
) is out now.