This weekend brought the passing of Isaac Hayes, the original sexy bald-headed chocolate man, and Bernie Mac, the edgy comedian who went from jokes about child abuse to the family friendly The Bernie Mac Show.

In a March 2003 story, Keith Boykin highlighted a story on Bernice Mac from Rolling Out Magazine, explaining how he overcame homophobia:

"In an interview with Rico Washington, Mac admits he had to change the depiction of his nephew as a flamboyant gay character in The Kings of Comedy standup routine to settle a family dispute.
'I didn't really know I hurt my nephew. . . . I came home to see my family, and he wouldn't speak to me,' Mac said. 'I'm a comedian, I'm writing jokes. I'm writing stories and it was funny. But I was killing him. Especially when I said 'faggot.'


To make up for his act, Mac showed up at his nephew's school unannounced and heaped praise on the nephew as 'the closest thing to my life,' the paper reported. Then, when Mac's new television show was in production, he decided to take a different approach. 'I couldn't do him like that again,' he said, and he changed the character so that his nephew was more like Mac himself as a little boy." Good for Bernie Mac.


Isaac Hayes is an icon. He is a three-time Grammy winner and the first African-America to win an Academy Award for a non-acting category, which was the theme song from Shaft for Best Original Song. Hayes continued his legendary status as the Chef from South Park up till 2006. There was some controversy about him leaving South Park, if it was due to a stroke, salary, the creators of South Park mocking his religion (Scientology), or a combination of everything. Nonetheless, the boy who once picked cotton in Tennessee achieved international fame and will definitely go down in history as a pioneer in soul and funk.


***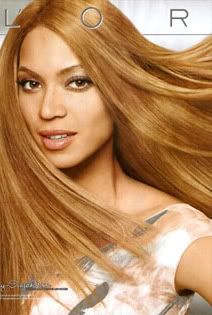 I don't get all this hoopla over
Beyonce
supposedly looking like a white woman in her billionth endorsement. As I said in a
post months ago
, many celebrities go from black to white. Still, I don't see much of a difference in the L'Oreal ad; she's always had light base that doesn't match her neck. After some turbo airbrushing to even out her color—this is what you get.
Also, I don't blame L'Oreal who quickly responded and said they did not lighten the photo or alter any of her features. I highly doubt a photo was approved without the consent of Beyonce's people.

Now, what I find offensive is Beyonce selling L'Oreal's Féria hair color products in that awful Lindsay Wagner AKA Bionic Woman wig! How can you sell hair color when your hair is Sassy Gal #2 from Ricky's?

That would be like Michael Jackson promoting Clarins Lait Self-Tanner!


Lil' Kim as a spokesperson for Carol's Daughter!


Ne-Yo endorsing Men's Rogaine Foam!


Hillary Clinton giving marriage advice!


Talk about false advertising!